Fundraiser money due: Fruit today; Bakery Thursday.
Madrigal Volunteer Help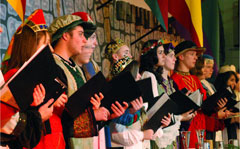 The Madrigal Dinner or "Feast" is a dinner theater production performed by the IHS Music Department. The High School cafeteria is transformed into a medieval castle. A meal is served with traditional song and choral music. Preparations for this event are lengthy and require a good bit of help! If you can lend yourself to provide sewing, construction, kitchen, serving, decorating, cleanup or something in between the Music Boosters can use your help.
Please consider lending a hand in any of the following areas:
Sewing and Costumes
During the school day at 11:30-12:30 and/or 1:50-2:30
Light sewing, embellishing with hot glue, steaming and pressing costumes. Call Marcia Abbadini 216-447-8393
Scenery Setup
Sunday, November 27 - 2:00 pm
A large crew of men, women and students is needed to transform the IHS cafeteria into our castle. Tasks include but are not limited to:
Assembling walls, platforms, lighting, ironing, decorating walls, hanging banners, paint or repair of scenery, stringing garland, assembling Christmas trees. Additional setup times for the castle scenery will include during the day and after school on Wednesday, November 30 if necessary.
Call Ms. Campbell if you can help at 642-5860 Ext. 1222
Serving, Supervising, Decorating or Cleanup
On both days of the event 12/2 & 12/3
5:00-7:30 pm., Ticket table
5:45-9:00 pm., Adult kitchen help for food preparation
Adult help to supervise the servers in the kitchen during the performance
3:30-5:45 pm., Setup help consisting of decorating tables, setting tables
9:00 pm., Cleanup help is needed after each performance
Teardown of scenery - Time/Date TBD
Call Marcia Abbadini 216-447-8393 for more information.
Calendar Raffle Fundraiser
Donation Procurement

In place of our Wing Night for Uniforms, this year the Music Boosters will conduct a calendar raffle. The calendars will be sold for $10.00 each, and names will be drawn in February on school days only for prizes listed on each of those days. Our Chairperson is Chris Grande - 216-642-1224
We are currently looking for donations of prizes to put onto the calendar. Do you know of a business that would like to donate items? Are you a Black Friday - Cyber Monday shopper? Do you Groupon, LivingSocial, DealChicken, Dining Deals (Channel 8), Ways to Save (Channel 3 AM)? If so, we need you! With the help of many, we can procure 21 prizes in no time! Please give Chris a call if you can help. Donation letters are available, as are Tax Exemption Forms, upon request. Donations must to be in by December 14 so we can start selling the calendars online before Christmas break.
Holiday Fest, Saturday 12/4, Noon - 4pm
The Band and Vocal Departments will be selling Hot Dogs, Nachos, Pretzels and Water during Holiday Fest. Volunteers are needed for shopping, setup (11:00 am), making and serving items during the event, and cleanup. Please contact Mary Dolansky 216-524-0881
Dates to Remember
11/11 - Fruit Sale Money Due
11/17 - Stoller (bakery) fundraiser money due
12/1 - Fruit & Bakery Fundraiser pickup after school at HS
12/4 - Holiday Fest, Noon - 4pm
12/2 - Madrigal Dinner 7pm
12/3 - Madrigal Dinner 7pm
12/14 - Holiday Concert 7pm
Additional questions can be answered by the following Booster Amabassadors: Anna Sarley 216-524-2927, Marcia Abbadini 216-447-8393, Nancy Flynn 216-701-7373, Cathy Krolikowski 216-524-8260, Mary Dolansky 216-524-0881. Teri Kula 216-573-4962.
---
You have received this message because you are a friend or member of the Independence Music Boosters. Contact Boosters Webmaster if you wish to be removed from this distribution list.